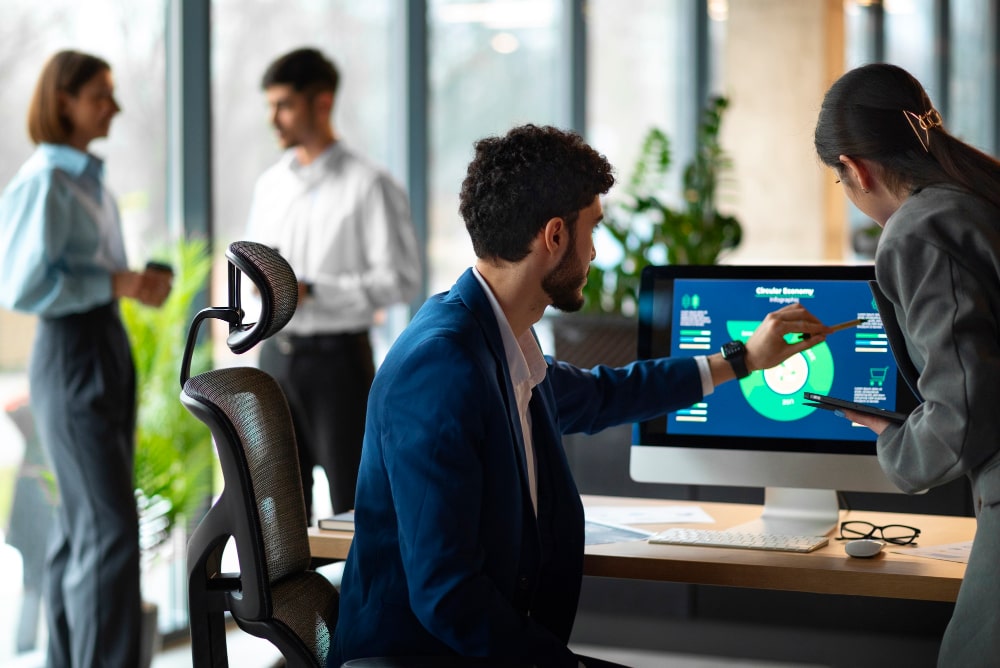 We can observe and experience that businesses or enterprises that are digital, inculcate financial services into nonfinancial applications. The growing digital transformation and newer technology have led the business to provide an experience that allows the customers a one-stop-shop service.
Now that everything is digital, it is important to get financial survival on your hands which allows YouTube access to their finance without even going to the banks. This is done through a simple login on the eCommerce platform.
This rapid growth in the market of embedded finance is incredible and everyone from investors to payment providers or banks is to understand what really embedded finance is.
In this article, we will discuss What exactly embedded finance is and how it is important in these growing times.
Embedded finance for enterprise
Embedded finance, is a simple and old process used by banks or companies to sell financial products. Nowadays, these financial products are sold to add them to the digital experience of the customer. In old times, these were used by banks when they introduced credit cards at retail chains, etc.
Embedded finance is an exponentially growing market digitally and we can see this in our digital UI where we use these financial services as an extension while we shop or use third-party applications for payments. These third-party applications or extensions, allow access to the consumer account of the bank and the transactions done are on their side.
One digitally growing platform is the application like WhatsApp, which is used by millions of people in India, but now not only messaging, it allows users to do payments.
Potentials of Embedded Finance
A powerful tool that can revolutionize the future of financial or nonfinancial operations. Thai technology keeps the potential to eliminate or decrease the value of traditional banks and their complex processes.
Embedded Finance- Future of Business
Embedded finance can easily solve complex liquidity issues and get trace credits by making a daily part out of it in business. Let us understand embedded finance using some factors:
Influence growth trends
A scenario is created where we can see the development in supply chains, or digitalization policies by the government, where we can still see the banking is running. But this type of environment will make embedded finance grow.
Accelerated Digitalization
Companies are to be seen to invest a lot in the growing technologies that help them to give a change in their business process and workflow. By investing in such a platform, businesses can increase and grow themselves.
Encouraging Regulatory Environment
Central and government encourage the lenders, to go far away from the sheet-based credit and align more towards the formalized credit. To assess the credit value, of small and medium businesses. Sources like bank accounts, social networks, cash flow transactions, and phone records can be used to reduce data inequality problems.
Lower Costs
We have understood and seen that custom software is expensive and needs more of the knowledge and implementation cost is a lot. So to reduce this for small and medium businesses, the embedded fiance was a solution that was much more affordable. Also, this allows and provides consumers with banking services easily.
Growing Consumer Needs
The prevalent, smooth financial transactions have become a need of customers. Every consumer needs a streamlined experience. The companies offer various digital products and services. Businesses like IKEA have embedded finance that makes their organization big and can be seen as their key feature.
Embedded Finance For Enterprise
Let us understand some types of Embedded finance:
Embedded Payments
A seamless and intuitive payment experience is inculcated in platforms and applications. Even in video games, we can get an experience of in-game purchases, e-wallets, subscriptions, and various installment options.
Embedded Credit
It provides a convenient experience to consumers by which they can get loans. This helps consumers to apply, acquire, and repay loans on one single platform. Like, on Amazon we can pay using EMI and many more.
Embedded Insurance
The providers give the technologies that provide insurance into mobile applications, websites, etc. like, Tesla offers auto insurance while purchasing, whether online or in-store.
Embedded Investments
It includes integrating stock market investment services into existing platforms. API-based brokerage firms lead this trend by providing microservices such as account opening, funding, trading, portfolio management, and market data. With embedded investments, users can manage their investments directly from the platform, which reduces the need to switch to other investment platforms. Some companies even allow employees to purchase stocks from within their employee portal.
Future of Embedded finance
Embedded finance for enterprise is not an ongoing old trend. We can see its growth potential with the use of statistic=tics which shows that by 2030, the industries are projected to reach a value of $7.2 trillion, and 92% of businesses are focused to inculcate embedded finance in the upcoming 5 years.
Businesses are recognizing the importance of embedded finance and prioritizing its integration to meet customer needs. Those who fail to adapt may find themselves at a disadvantage compared to their competitors. The future of embedded finance holds immense promise not only for providers but also for business leaders and customers alike.
Embedded Finance Infrastructure
There are three major parts or entities that create the best user financial solutions. These are:
Digital Platforms are our applications, websites, or software that understand the audience and provide financial services in the platform easily.
Financial institutions have a great ability to manage credit risk, regulations, and loan requests.
Financial Companies build software that creates the chain to connect different parties, within the mobile application or services like loan lifecycle etc.
Why Corewave?
As revolutionary as the concept of Embedded finance is, we all should understand that this is going to be a need in the near future. Digital platforms are increasing, digitalization is focused on.
Consumers are the most privileged and are helped by the coming technology of embedded finance. This has made finance access affordable and the user interface has changed a lot. Corewave is here to offer the best financial services to our clients. We focus on creating and inculcating finance solutions on digital platforms. With Corewave, you can trust the process and be in the growing industry with the best solution for your business.