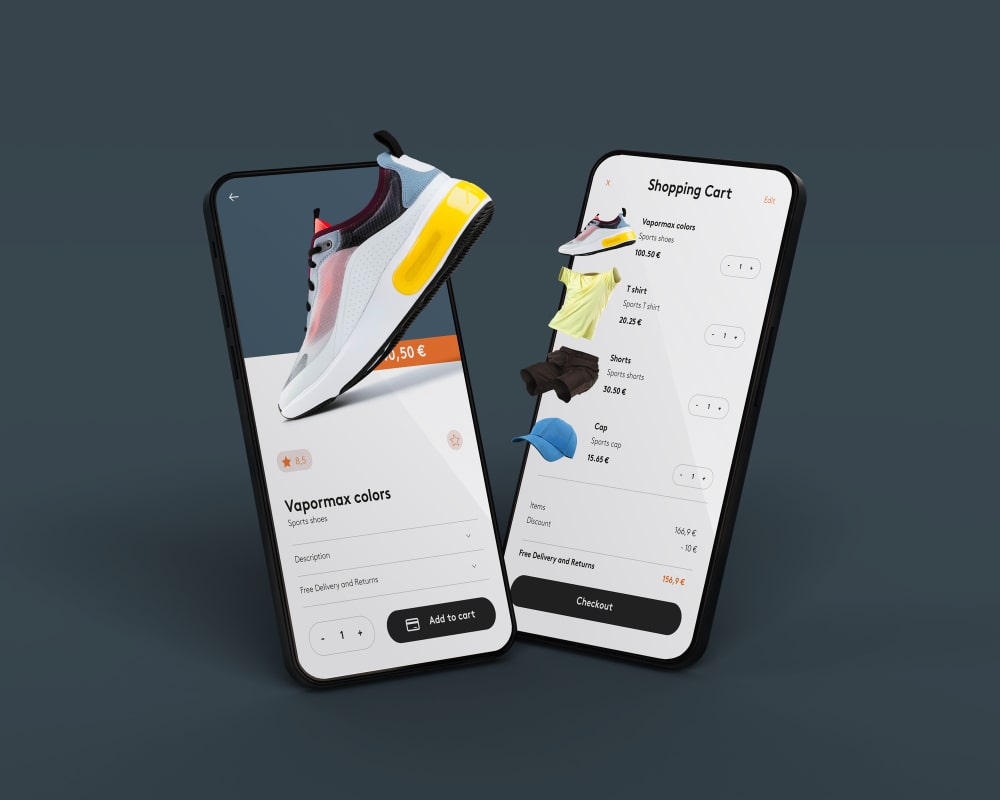 Amazon is one of the biggest eCommerce apps at a time in the world. Looking to create such kind of an app, you must be wondering how much it cost.
In this article, we are going to bifurcate the cost of creating such an application that helps you stand apart from your competition!!
The article will contain a detailed guide for you to understand.
Let's start with the basics and understand
What is an eCommerce app?
eCommerce applications are platforms for people to buy and browse for stuff, from anywhere and anytime. These are applications that include various features like push notifications, payment options, and many more.
Amazon is an eCommerce application, that is spread all over the world. This is an application where people can get anything they want from A to Z. Vendors get to target customers all around to increase their sales.
Creating an application like that takes a lot of time, investment, and a team of developers and people around.
Cost of developing a simple eCommerce app
The cost of developing an app can vary significantly, ranging from 20 lakhs to 1.2 crore rupees on average. However, the complexity of the app can potentially increase the cost up to 2.4 crore rupees. The price of app development is influenced by various factors, including the app/s features, functions, and development approach. At Corewave, we specialize in crafting customized applications that take into account these factors. In this article, we will provide an in-depth analysis of the crucial factors that contribute to the cost of mobile app development. To determine the app/s cost, it is essential to consider the time required for each individual development process.
Before creating an application like Amazon, one should understand
The features of applications like Amazon
Features differ for users, vendors, and administrations.
The User Centric features are basic features that one sees when they install the application, these features are:
● Login process
● My Profile
● Categorized products
● My orders, My cart, My wishlist
● Personalized products based on search history
● Overall billing, shipping, and ordering process
● Various payment methods
● Product sharing
● Order tracking
● Easy return process
● Notifications
● Feedbacks and Q/A
Different features for vendors are:
● Easy sign-up process
● Offers and discounts
● Feedback analysis
● Inventory management
● Ratings and reviews
● Auto-emails on the order confirmation
● Return process management
● Secure payment gateways and so on
Lastly, we have the admin-centric features, which actually include all the management options/features, like:
● Admin User management
● Product Category Management
● Vendor Management
● Banner management
● Discounts Management
● Logistics Management
● Payment Management
● Refund Management
● Feedback & Support
As we all know, the number of features affects the cost of development. The complexity of features and their number directly affects the time of development and the cost of it, simultaneously. No one can guess the exact price of developing an application. This also depends on the app development company that you choose. But a rough idea of development cost can be estimated for any mobile application.
Cost to Develop Such Applications like Amazon
To determine the cost of such an application, which has highly advanced technology, a powerful backend, and features that work smoothly like butter. Depending on various factors the cost can go around 15 lakh to 20 lakhs rupees.
But to determine the cost, below are certain factors that you need to know:
● The cost is directly proportional to the time. The more time is invested, the more it is expensive.
● One should know what type they want in the eCommerce app.
● The simplicity and complexity of the features matter a lot. If you want to increase your cost, complex features are your way.
● Designing, the simple and elegant design will attract more users. So make sure to have a good UI/UX.
There are three major factors that affect the cost:
App Design
UI/UX of an application creates a huge impact on the users. It is very important to create something that is simple. One must not create complex designs as they cost more and take longer to develop.
App Platform
Applications like Amazon are built differently for iOS and Android. The increasing amount of Android users has made Android development more costly.
App Size
App size is the total of all the features and functionalities of the application. The more features, the cost will increase. So to keep the cost to a minimum, we should comprise the features.
| | | |
| --- | --- | --- |
| Complexity | A brief | Time, hours |
| Simple | Addition of simple features like an email subscription, social login, calendar, etc. No API and backend integration. | 400 |
| Moderate | Custom UI features, payment features, API integration, headsets and tablets adaptation, and backend server. | 500-800 |
| Complex | Support for multi-language 3rd-party integrations, custom animations, back-end, professional design, and real-time features. | 800-1500 |
Team Required
When it comes to mobile app development, you have several primary options: hiring an app development company, assembling a local team, utilizing in-house developers, or engaging freelance developers. Opting for an experienced app development company is often a more reliable choice compared to hiring a freelancer. Collaborating with a professional app development company becomes particularly advantageous if you require high-end features in your application. Additionally, the location of the app developer is a crucial factor that can impact the overall cost. Outsourcing your project relieves you of management responsibilities, but you may end up paying a higher price based on the scope of work completed. Different regions have developers with varying hourly rates, so the location of the developers directly affects the final cost.
To develop an application like Amazon, you need a full-stack team of developers, analysts and etc. The cost will depend on the team members, and the time taken to develop an application by them.
The major or key team members are:
● Business analyst
● Project Manager
● Front end Developer
● Back end developer
● UI/UX design
● Quality Assurance Engineer
The location of developers affects the cost too much. The cost can go from 1000 rupees per hour to 6000 rupees per hour and higher. The experience and skill of the developer and the time taken for development is a major factor in this.
How can you reduce the cost?
Every business owner has to keep a check on the development of a mobile app. For entrepreneurs or even business owners, the cost can be maintained and even reduced using the following tips and tricks:-
Features as priority
The features of an application play an important role when it comes to cost. One should make sure to use the most important features first while developing an application. The extra, design features can be added later once your app is launched and successful.
Quality
Whenever any application is made, due to its technical nature, bugs, and issues come in handy. It is the duty of the app development agency you work with to check your application for any bugs. Also, the application should be of strong quality to handle various features at a time.
Cross-platform Development
Platform plays an important role, as we all know android has a larger user base but an application like Amazon or eCommerce applications need both platforms, iOS and Android to reach the maximum number of people. So it is better to develop a cross-platform application.
Conclusion
An application like Amazon can cost around 5 lakhs to 1 Crore rupees to build. No matter how you plan to develop the application, you will need and Mobile app development company, that will help you create an application with ease. A company is all about providing assistance to your idea and providing the minimal cost of development.
To develop a large application like this, you will need experts and professionals to work for you. To create an application with minimal cost and have one-on-one discussions about your idea with the developers, Corewave is your best choice.
Our team of developers is focused to create ap[plications that are tailor-made for you and make you help stand out in the market.
Developing an application for one platform is always less expensive than developing it for both iOS and Android. So make sure to choose a preferred platform that helps you reach your goal. Factors like database administration, server setup, security precautions, and updates should be focused on. These factors are responsible for app scalability, security, and removal of any bugs if occur. With these complex features, cross-platform compatibility, elegant UI/UX, strong backend, and continuous maintenance, you can develop an application like Amazon that will definitely cost you a lot but, this type of application is what is required to scale your business.